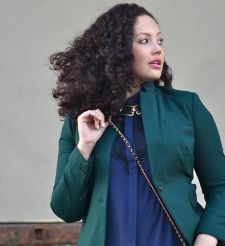 When How To Be A Model read that Jessica Simpson had made more money with her plus-size-friendly clothing line last year than super-slim Victoria Beckham did with hers, we knew that the face of 'Fatshion' had at last changed forever.
An increase in plus-size models, celebrities, bloggers and clothing brands has become apparent in recent years and now it finally seems that a more healthy and attainable body image may finally be winning the fight against size zero ideals.
Contemporary icons, such as Beyonce, Kate Winslet or Kim Kardashian continue to prove that curvy is good and that you don't need the figure of Keira Knightly to be able to turn heads.
"I was sick of never seeing bodies like mine celebrated or even presented as normal in the mainstream media, so I set up my Tumblr to fill the gap," 'Corpulent' http://corpulent.wordpress.com/ blogger Frances told Mashable.
"In sourcing photos, videos, and quotes of and about fat women, I found fat acceptance and blogs. Reading them and the blogs they linked to made me realize that there was a social and cultural framework for how I related to my own body and how society relates to bodies like mine. I finally saw it was political."
'Fatshion' is a term that has appeared in response to the trend known as 'thinspiration' – one that involves sharing pictures of skinny celebrities and models in order to encourage weightloss – and now sources such as 'Girls With Curves' http://girlwithcurves.com/ are proving that you can wear current fashions whatever your size.
"Fat is still seen as unhealthy, fat discrimination still exists, and plus size fashion is generally still frumpy, of poorer quality, and more expensive," says Frances. "However, we are getting there… With the Internet, fat acceptance activists have a community that we can draw on for support, for numbers, and for friendship."
How To Be A Model is sure that this trend will continue and we hope that in doing so it will help diminish some of the negative body-image issues and resulting eating disorders that have blighted modern society. 'Thinspirational' media imagery has a lot to answer for and, ultimately, we feel that the time for a healthy balance is long overdue.