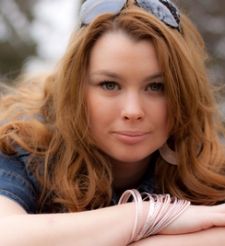 Modelling has long since been renowned as an industry for using unusual-looking, ultra thin, size zero girls.
Slowly, but surely, we have seen evidence of every-day female bodies creeping in via advertising campaigns such as Dove's 'real women', or by successful celebrities embracing their curves like Adele, Tyra Banks and Kim Kardashian.
Success for models with natural, curvier body shapes is coming along much more consistently. Beth Ditto's collection for Evans was a huge success and there's no forgetting 2010's media frenzy when Mark Fast's stylist allegedly walked out during London Fashion Week over a decision to use plus-sized models. However, the models excellently showed how good Mark's clingy knitted dresses could look on curvy bodies and they sold out within weeks.
A model not to be overlooked when it comes to plus-sized success is of course Sophie Dahl. Since her signing to her first model agency, Sophie's curvy figure was soon spotted in many prominent magazines including Elle and Marie Clare. Although Sophie has slimmed down significantly since then, some argue that she achieved much more success as a plus sized model.
It's a common perception that it's the industry holding back the plus-sized models from modelling work and that they would rather choose a skinny model –in reality, this couldn't be farther from the truth.  There are a wealth of magazines, designers and organisations that have already made the move into the plus-sized and every-day market and have used plus-sized models to promote their products without giving it a second thought.
So, where is the barrier coming from? Why are we not seeing plus-sized models more regularly? Some argue this is simply due to a misconception amongst women that 'they will never make it as a model' or that they are 'too fat'. But there are countless model agencies, who are religiously dedicated to finding these unique, curvaceous beauties and pushing them firmly into the limelight, where they deserve to be. The demand for plus sized girls is there – so where are the girls? The success and opportunities are just around the corner and this industry will not grow without more suitable models .  This could be you read our modelling tips to find out more.