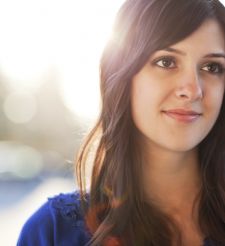 Are you wondering how to be a petite model? Firstly what is considered short in the world of modelling and what is the reality of becoming a model if you are a short or petite woman.
The question of actually how short is short when it comes to modelling is an important question, it's quite surprising to find that some model agencies and modelling websites actually consider a short model to be 5'8" or under!   In the fashion modelling world petite can even refer to model under 5'9"!
Time to be realistic, if you are short, a career in modelling will be harder to obtain, simply because of the expectations that we all have – rightly or wrongly – about modelling and the world of high fashion.   Having said there are well known short women who have had a very successful career, Isobella Jade became famous for being almost 5'4".    Now a successful author and inspirational speaker, Isobella has had a successful modelling career working as a photographic model and body parts model.
This just goes to show you don't need to be statuesque to become a model. Women who are 5'7″ and under can have a successful career in modelling as long they know what their strengths are and the limits.  This is where being realistic comes in to play but there are various different modelling options open to short models.
Whilst fashion and catwalk models have strict height guidelines there are many other areas that are open to more petite models.  Catalogue photography work uses all type of body shapes and many online and catalogue retailers now produce special ranges for petite ladies.
Modelling accessories such as earrings, rings and necklaces is something that a girl of any height can do without being asked how tall are you.  With the many handbag designers and the popularity of accessories from scarves and gloves to belts and hats this is one avenue that is open to shorter models.
Shoe modelling is also an opportunity for shorter women as generally shoe models are not required to be tall.  The key is to be have nice feet, attractive toe nails and pretty ankles, small and petite feet can look much more attractive than larger feet of taller models.
If you're best feature is your hair then becoming a hair model  is something worth looking into.  There are many hair shows that needs models as well as photographic hair modelling for magazines and hair campaigns for salons and hair products.
Beauty modelling and hand modelling are also great choices for the shorter model.  Above all though self-promotion is key to working as a model when you are not tall, so grab your photos and portfolio because height is not everything in modelling if you just know how to market what you do have.