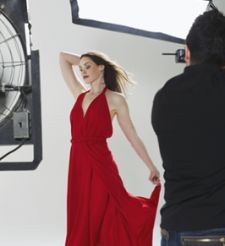 Confidence: Clients are looking for someone who is confident in his/herself and can sell a product.
A 'thick skin': You must be able to handle the rejection that every model must face. You cannot expect meet the expectations of every client. Try to think, 'its good if I get the job but I won't feel bad if I don't get it'.
Stamina: A model must be healthy and in shape to be able to work all-day and still look good. Maintain a healthy diet and work out at least three times a week at home or at a gym.
 Independence: Professional models may have to travel often so it is important to have a great deal of independence.
You must be comfortable being by yourself for long periods of time.
Organization: You must be organized in order to keep track of the dates, times and locations of your castings and appointments.
Will Power: The international modeling scene does involve drugs and partying. You must have the will power to say NO to drugs and to too much partying. An agency will drop a model very quickly if it becomes known that she takes drugs or parties a lot.
Try to communicate, with the photographer/agency, as much as possible. If he/she writes to you answer as quickly as possible.
Try to keep up with styles, clothing trends etc. and be sure to keep your portfolio updated with new looks etc
Always remember that it takes a lot of work to be a professional and successful
Find out more modelling tips and beauty tips so you can succeed.